San Teodoro Night Bus 2023
San Teodoro Night Bus is back for summer 2023! Thanks to the San Teodoro Night Bus service you can reach San Teodoro center and its evening attractions, such as the evening market, the shopping streets, outdoor club (Ambra Night and Luna Glam clubs, Bal Harbour, Buddha del Mar lounge bar and soon). The service is by reservation only. Reservation within 7:00 PM required.
!SUMMER 2023 NEWS! With our Night Bus service you can easily reach Porto Coda Cavallo, Porto Taverna and Porto San Paolo!
The Night Bus service is available from June 15 to September 15 2023.
Routes and Timetable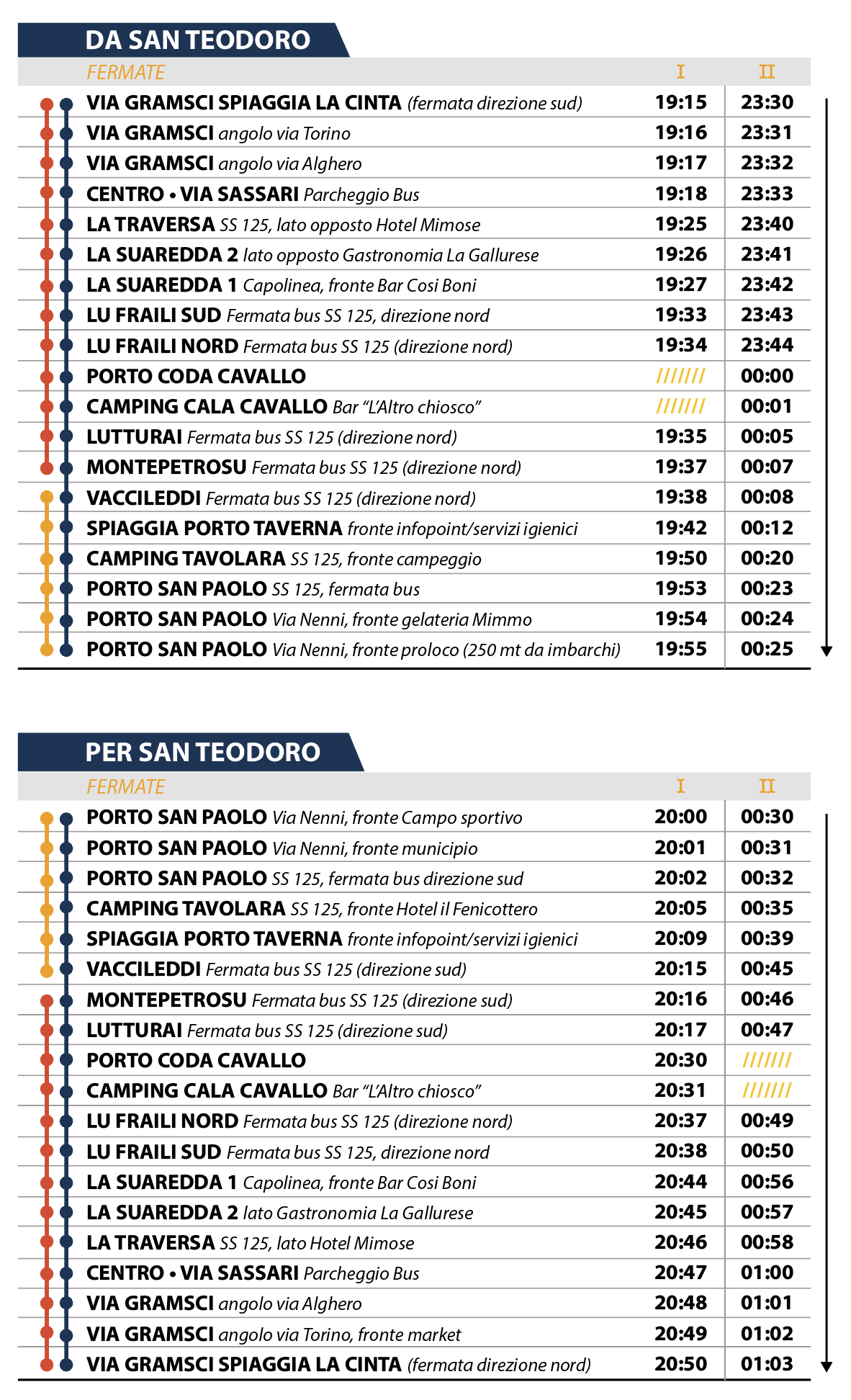 •••
Bus stops
The stops are identified with horizontal and vertical signs. For any doubts do not hesitate to contact us or refer to the map below.
•••
Summer 2023 Rates (one way)
Route Porto Coda Cavallo <-> San Teodoro = € 5,00
Route Porto San Paolo <-> Porto Taverna = € 5,00
Route Porto San Paolo/Porto Taverna <-> San Teodoro € 8,00
Free of charge
Children under 10 (with an identity document and accompanied).
•••
How to book
You can book your seat by App or website (available soon), WhatsApp message or by phone at number +39 349 4453924 (already available).
We accept reservations within 7.00 pm. After this time reservations are at the discretion of the booking center.
Once you make your reservation you will receive a confirmation e-mail, which you need to save and show it to the bus driver before getting on board.
Payment online in case of reservation by App or website. You can pay on board (cash or credit card) if you book by phone or Whatsapp.
Now that you have all the information, all you have to do is book your seat on board 🙂
---
Share contents