San Teodoro Night Bus 2022
The Night Bus is back for summer 2022! Thanks to the San Teodoro Night Bus service you can reach the center of San Teodoro and its evening attractions, such as the evening market, the shopping streets, outdoor clubs and the Ambra Night and Luna Glam Club discos. The service is by reservation only.
The service is designed both for families (who will be able to reach the center and return earlier with the 11:30 pm ride – children <10 years for free) and for night lovers (who can reach the center even later and return with the 3:00 am or 5:45 am). During the night, with the intermediate runs at 2:25 and 3:00, you can also move from one club to another.
The Night Bus has over 20 stops among the areas of Porto Coda Cavallo, Lu Fraili, Puntaldia, La Suaredda, La Traversa and San Teodoro center (mainly near hotels, agencies, b&b and campsites).
The Night Bus service is available from 1/6 to 30/9 (only the I race) while the other races will be available only in July and August and on the occasion of the opening of the discos or for particular events. If you do not find the right solution for your needs, our private NCC service – bus rental with driver is still active (visit the dedicated section)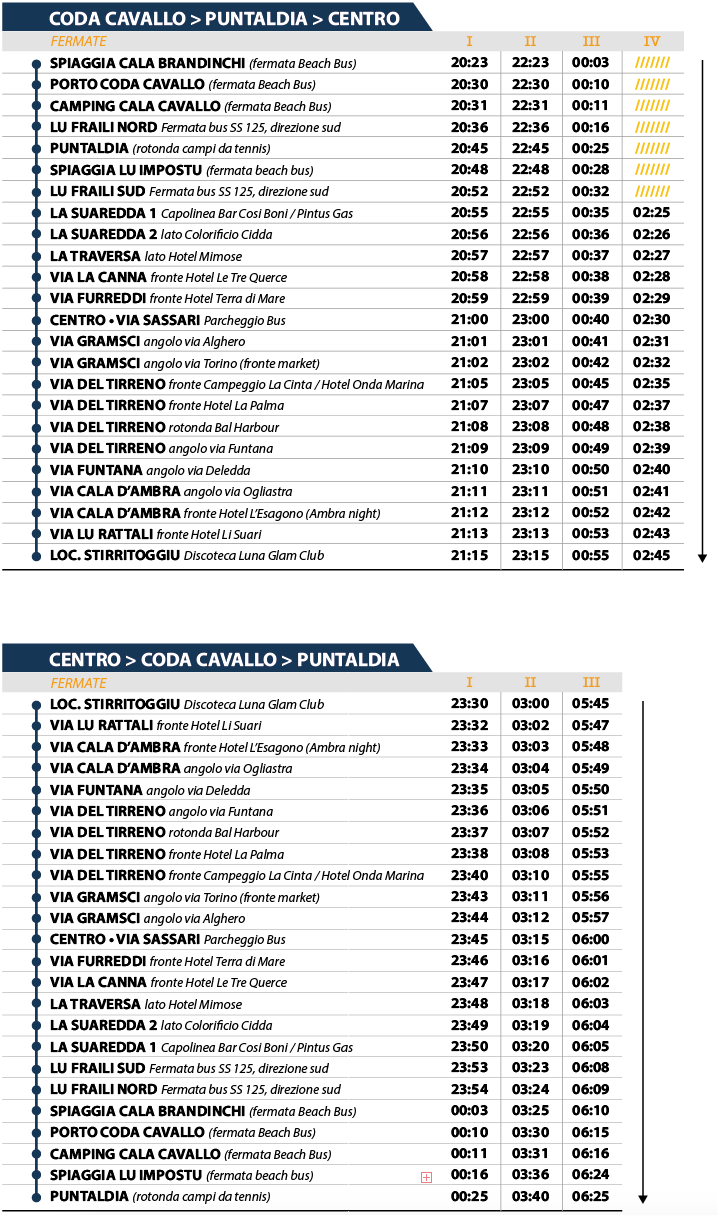 •••
Bus stops
The night bus stops are the same as the beach bus, to which others are added in the town center, also near the discos. The stops are identified with horizontal and vertical signs. For any doubts do not hesitate to contact us or refer to the map below.
•••
Rates and free tickets
The night bus ticket costs € 5.00 per person each way. Children under 10 travel for free (with an identity document and accompanied).
•••
How to book
You can book your seat by App (available soon), website (by clicking on the button below), WhatsApp message or by phone.
We accept telephone / WhatsApp reservations only before 7.00 pm on the day of departure.
After 19:00 the reservation can only be made online or by App and must be prepaid.
Payment can be made on board (if you booked before 19:00) or be paid in advance (if you book after 19:00).
Our help desk is operational 24 hours a day but, after 19:00, reservations, changes or cancellations are not accepted.
Now that you have all the information, all you have to do is book your seat on board 🙂
---
Share contents