SAN TEODORO BEACH BUS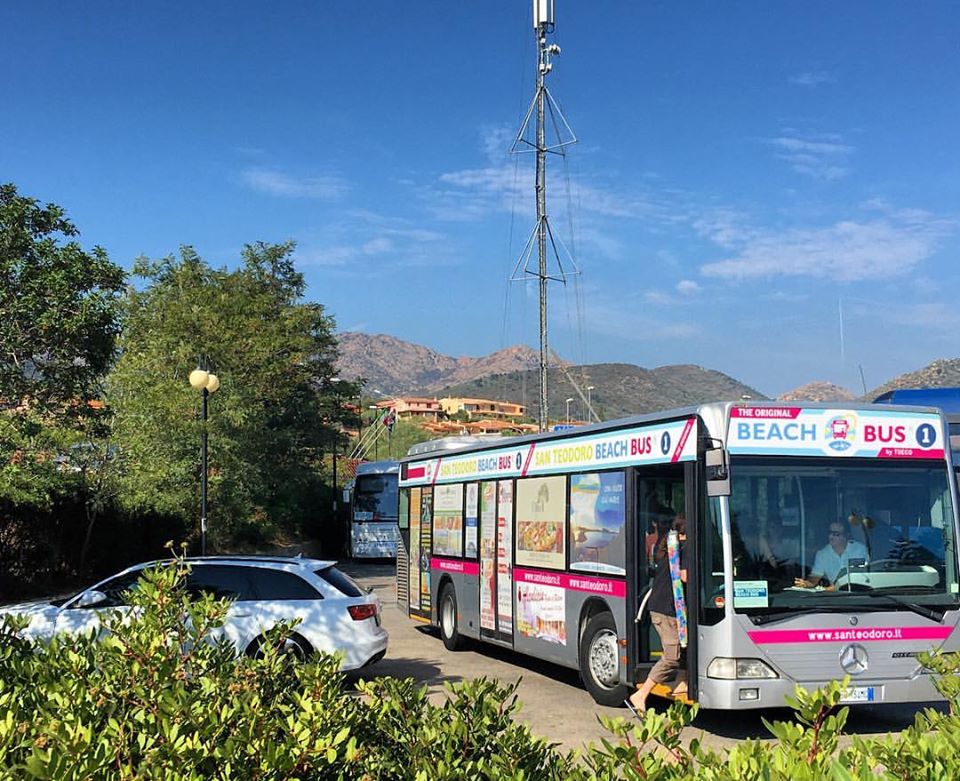 The San Teodoro Beach Bus is the first shuttle bus linking the center of San Teodoro with the beaches of La Cinta, Lu Impostu, Cala Brandinchi and the Porto Coda Cavallo complex (with its neighboring beaches of Salina Bamba and Cala Suaraccia / Le Farfalle) and vice versa. The service is available every day (including holidays) from 1st June to 30th September.
Timetable
The Beach Bus 2018 timetables are designed to give you the chance to spend your day at the beach and at the city centre. The Beach Bus has a round trips, from 9am to 8pm circa, for a total of six races, three during the day and three in the evening. Download the 2020 Timetable (pdf format)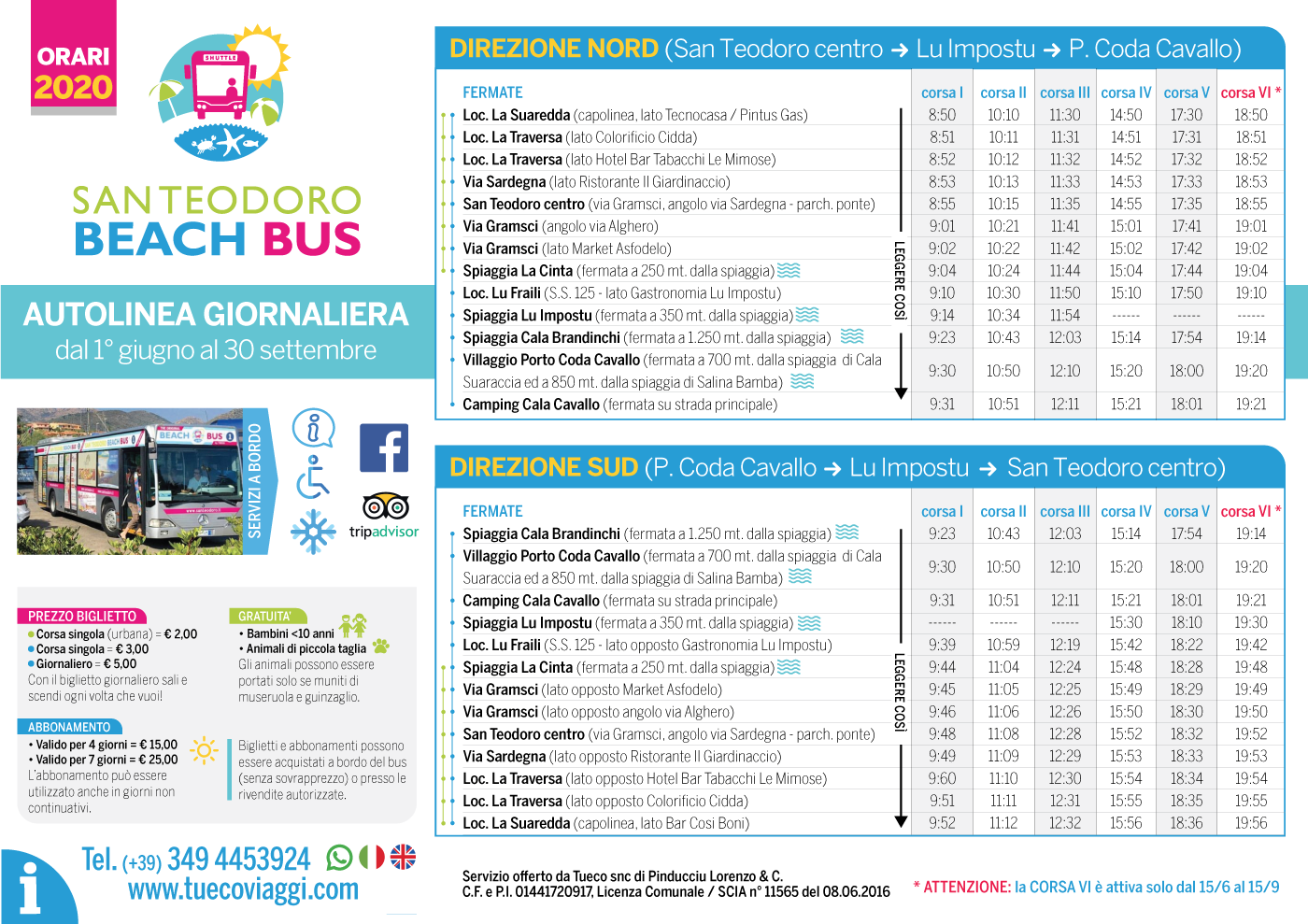 Stops
There are stops close to beaches, resorts, tourist villages and along the main streets of the country (via Sardegna, Via Gramsci, Via Nazionale). Stops are also identified by horizontal signage (yellow BUS written on asphalt). For any doubt do not hesitate to contact us.
Rates, subscriptions and gratuities
The San Teodoro Beach Bus is the cheapest and convenient way to travel to San Teodoro in full freedom, even in the evening. Children under the age of 10 travel free of charge (with a recognition document) and even small animals if equipped with a leash and muzzle. There are also very affordable subscriptions.
Rates 2018 per person
Single journey ticket (urban route) = € 2.00
Single journey ticket (all the way) = € 3.00
Daily ticket = € 5.00. With the day ticket, hop on and off whenever you want during the whole day!
Subscriptions
4 day ticket = € 15.00
7 ticket = € 25.00
The subscription can also be used on non-continuous days.
Gratuity
Children <10 years (not completed) free;
Small pets free, if muzzled and carried on a leash.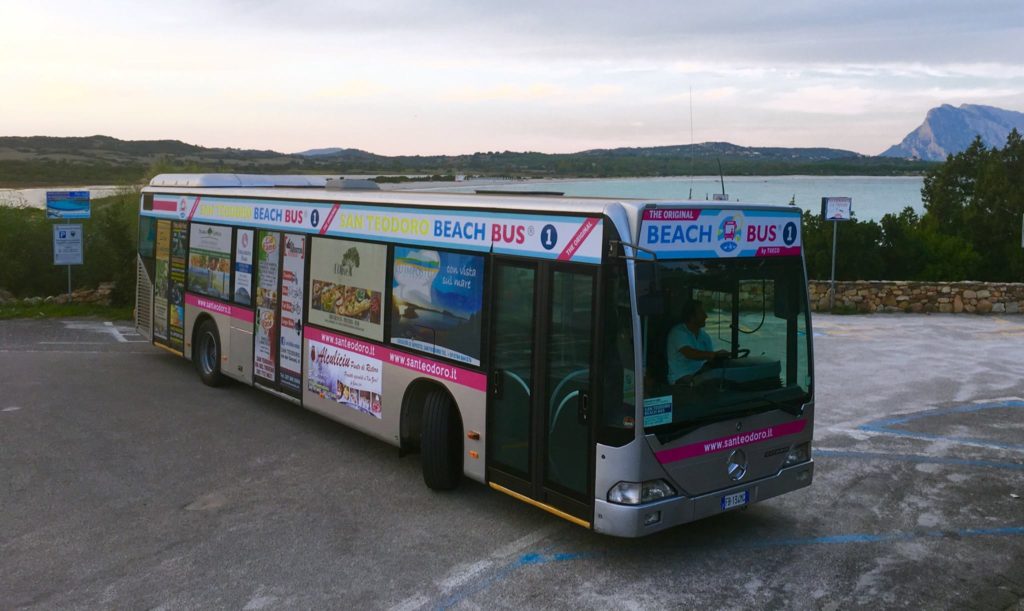 Where to buy tickets and subscriptions
It would be preferable for you to board on board after you have purchased the ticket. If you have not been able to do so, you can buy it directly on the bus without extra charge.
Here's where you can buy the ticket:
Consorzio Turistico San Teodoro (Piazzetta Mediterraneo)
Edicola (Largo Emilio Lussu)
Bar Il Fenicottero Rosa (La Suaredda)
Colorificio Cidda (La Suaredda – La Traversa)
Tabacchino Le Mimose (La Traversa)
Faba Shop (Ponte – Via Gramsci)
Bar Peppe (Via Gramsci)
Market Asfodelo (Via Gramsci)
Camping San Teodoro La Cinta (Via del Tirreno)
Azienda Agricola San Teodoro (Via Gramsci)
Bar/Ristorante Lu Impostu (Spiaggia Lu Impostu)
Agenzia Servtur (Porto Coda Cavallo)
Villaggio Cala Cavallo (Porto Coda Cavallo)
On the bus and at the Information Office in Piazza Mediterraneo (San Teodoro centro) you can also buy your subscription!
---
Share contents