Bus Sharing Olbia Airport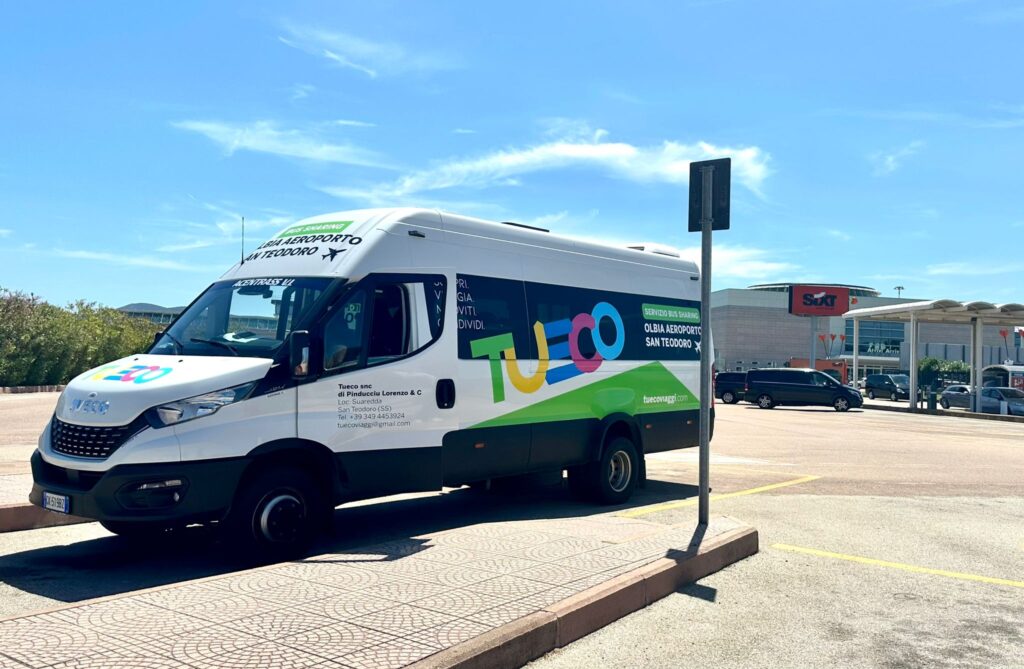 Thanks to the Bus Sharing (shared ride airport shuttle) reaching San Teodoro from Olbia Airport (and back) has never been easier and cheaper!
The Bus Sharing service is available from 19 May to 30 September 2023. Reservation is required. 
Routes and Timetables summer 2023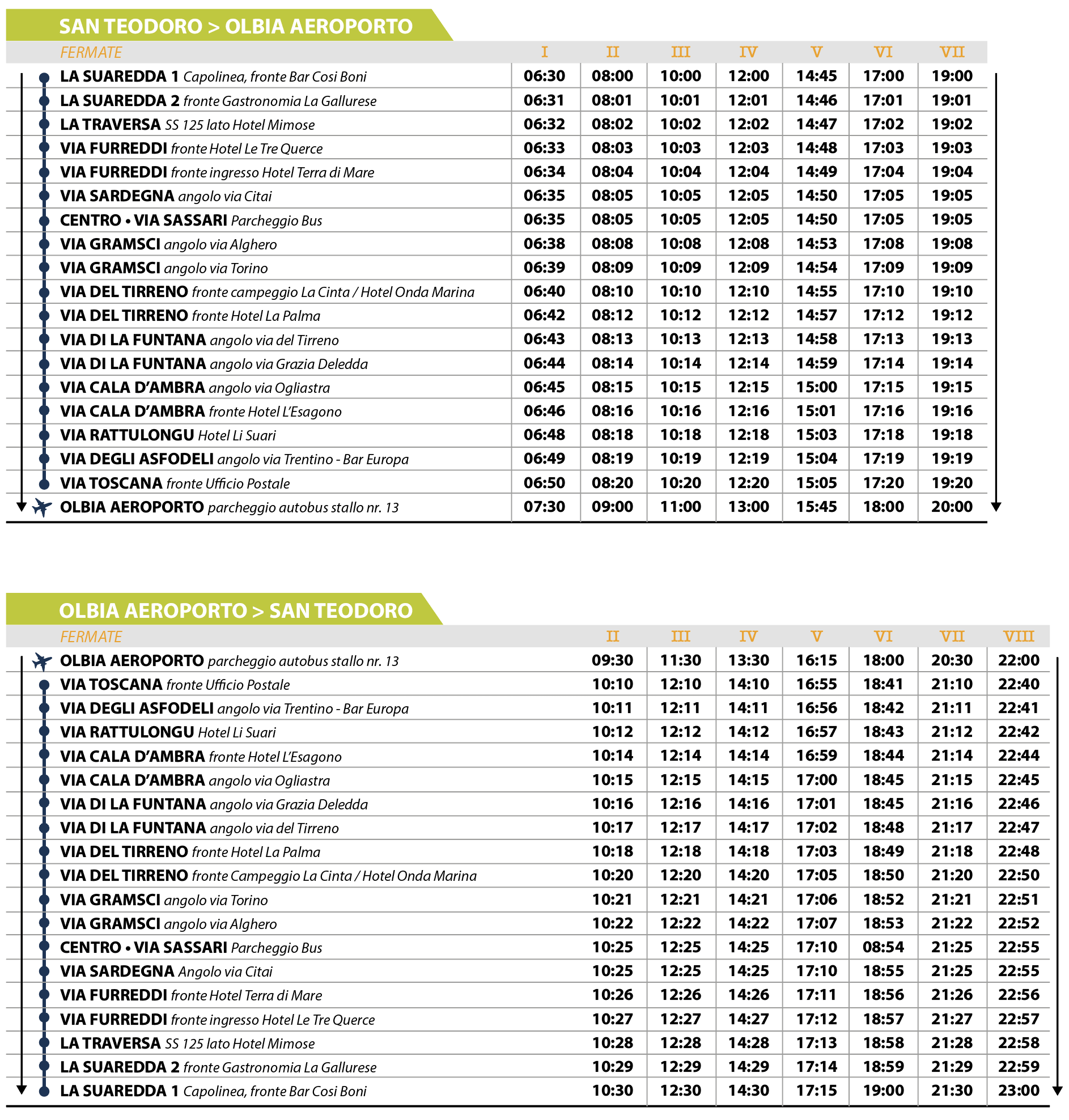 •••
Bus stops
At Olbia "Costa Smeralda" Airport you will find the Bus Sharing at the bus parking  (100 meters on the right as you exit the arrivals terminal) at stall number 13. It will drop you off there on your return (departures are just 200 meters away).
The Bus Sharing stops in San Teodoro are mainly located in the central area, in La Suaredda, La Traversa and near hotels, residences and camping sites.
The stops are identified with horizontal and vertical signs. For any doubts do not hesitate to contact us or refer to the map below.
•••
Fares, exemptions and additional charges
Online reservation and payment:

Adults = € 10,00
Children under 12 years old = € 5,00
Children under 3 years old = travel for free
Reservation by phone or WhatsApp and payment on board:

Adults = € 15,00
Children under 12 years old = € 7,50
Children under 3 years old = travel for free
•••
Luggage included per person
One hold luggage, one hand luggage, one bag
•••
Delay management
Bus sharing is a reservation service, shared with other people and we have arrival times at the airport to be absolutely respected.
For this reason, delays are not allowed. In case of delays that are not caused by the customer (such as flight delay, luggage delay, etc.) our customer service is at your complete disposal 24/7 to help you find a solution. For example, we may have a tolerance of 15 minutes for departures from the airport.
•••
How to book |
Reservation is required
You can either book your seat online at discounted rates (click on the link below), or at full price by sending a WhatsApp message or calling this number: +39 349 4453924.
Reservations are accepted until 7pm of the day before departure. Last-minute reservations are at the discretion of the reservation center.
Once you make your reservation you will receive a confirmation e-mail that you have to check and show to the bus driver before getting on board.
Online payment can be made with PayPal or credit card, in case of online booking through our website. You can pay on board with cash or credit card if you book by phone or WhatsApp (please note that discounted rates won't be applied if you book by phone through the reservation center).
Reservations can be cancelled within 24 hours prior to departure for justified reason and the amount paid will be refunded. In all other cases payment will still be due.
To simplify the airline delay management problem, please enter the flight details (Airport origin, company, estimated time of arrival) in the notes during the booking phase. Thank you!
Now that you have all the information, you can book your seat on board 🙂
---
Share contents